Follow Friday is hosted by Erika at
Parajunkee's View
.
This week's question: ACK! Your favourite book/movie character (example Hermione Granger played by the Emma chick) just walked into the room! Who is it and what would be your first reaction? You get extra points if you include visual stimulation.
My answer: Oh boy that's a tough question for Follow Friday. But if it were me, I would have to say Harry Potter's Ron Weasley played by Rupert Grint. I just love that guy - both the character and the actor. Rupert seems like a super sweet and a shy guy - a lot like Ron in many ways - and he would seem like an interesting person to talk to.
As for my reaction if I ever got the chance to meet him . . . well here's my plan. At first I plan to WOW him with my charm and witty jokes! *smirks* Yeah apparently I'm a really funny gal so I would totally walk up to him like this . . .
But in reality I do something really embarrassing . . .
Then there's total silence and you're not sure what to do because the guy is really famous and you're a big fan of his work and you plan to say you're BIG fan but no words can form so it makes you feel even more nervous then you already are . . .
And then Rupert will have that awkward pause too . . .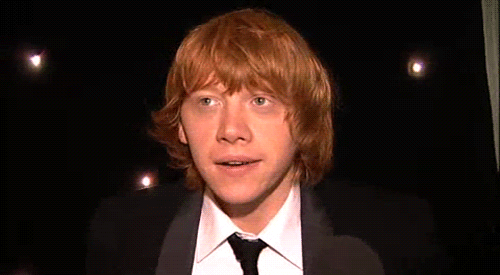 Have a great weekend you guys!