Hi everyone! Welcome to the fourth stop of the Fated blog tour, the amazing second novel written by an amazing author named Sarah Alderson, which will be out in Australia February 1st! If you haven't already, be sure to check out my two book reviews of Alderson's debut novel
Hunting Lila
(
here
) and
Fated
(
here
).
For this fourth pitstop, I've been asked to hold a Fated Cast Battle Off between a few of my favourite characters from the Fated book. But before we get our heroines, heroes, and villains all equipped with their weapons, super abilities and getting their heads into the game, here are all of the ten Fated character contenders: Evie, Lucas, Caleb, Grace, Neena, Joshua, Risper, Shula, Tristan, and Victor. Unfortunately I cannot force all of these fine characters of ours to battle to the death or make each and every character fight another after another because 1) we would be here forever, 2) the cast of characters are very deadly in their own way and 3) I don't want too much blood left on my blog by the time this blog battle has ended. So instead, I have four very special battles for your eyes only.
Here's the deal - I name the two characters, I place the selected characters into a very deadly and dangerous situation, and then YOU as a reader get to decide who wins based on the character stats by commenting below. I will also voice my own opinions that may help sway you in choosing the winner and loser. Sound good? Okay then let's go . . . PREPARE THE TROOPS!
BATTLE #1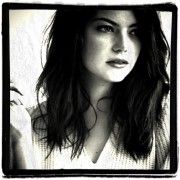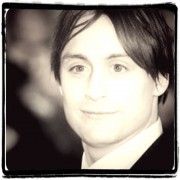 EVIE vs CALEB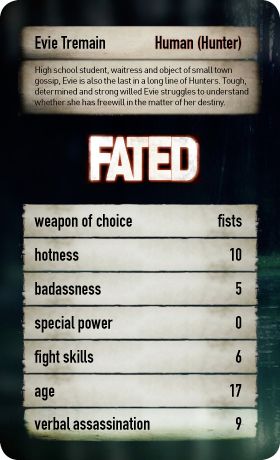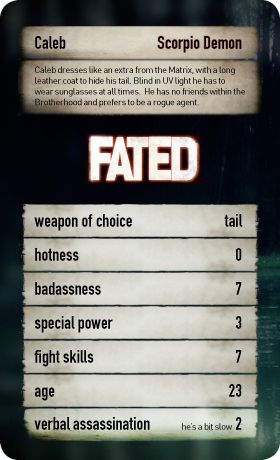 The situation: Imagine Caleb attacking another human being (for fun) and in defence, while thinking it's another human beating another, Evie fends Caleb off and ends up chasing after him. However, in a form of a battle tactic, Caleb decides to lure Evie into an abandoned warehouse nearby and wants to lead her into a trap. By the time Evie arrives inside the warehouse, a dark one mind you, she is locked in and forced to fight with Caleb with hand-to-hand combat. Only she doesn't quite know he's a demon and she doesn't know how to fight as she has little skills. But with Caleb now advancing on her, running forward and out of nowhere knocks her to the ground with his tail, do you believe Evie has a chance of beating this dude? Even a blind one?
My opinion on the battle: Judging by the stats, Caleb has an advantage here. He has more fighting experience than Evie does - with badassness, special powers of a fast-whipping tail, fighting skills, and is far more mature in age. As you can see Evie has a very little chance. In this particular situation, Caleb lured our Evie into a pitch-black warehouse and considering he's blind, Evie is blind too which takes her into Caleb's personal territory. Another advantage as he's used to using his hearing and being blind etc. However, Evie still has a chance. She's younger, quicker, and has the upper hand in verbal assassination. Who says a smart-mouth can't help win you a battle? My money is on Evie. The underdog can always surprise you.
So who do you think would win? Evie or Caleb?
BATTLE #2
LUCAS vs VICTOR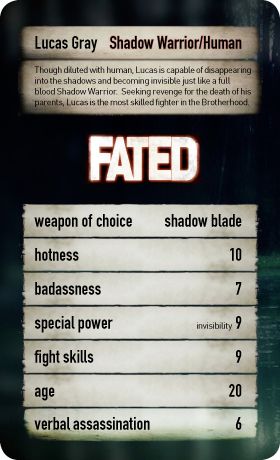 The situation: Let's just say, in a hunter rage, Victor targets a lone Lucas and wants to kill him. Despite an age difference, both guys are very close in their battle stats and would put up a good fight. As Victor lunges for Lucas with a blade in hand, Lucas disappears into the shadows which leaves his opponent alone in an alleyway and completely vulnerable. Furious by this, Victor closes his eyes and carefully listens by using his 'hunter senses'. When Lucas reappears with his own blade and sneaks up behind him, Victor strikes back and cuts Lucas but Lucas himself remains strong. How do you see this turning out? Can Lucas beat Victor?
My opinion on the battle: This is a tough battle here! First off, Victor has experience on top of Lucas's and he has killed a Shadow Warrior like Lucas before, so he would know what it takes to kill another of his kind. And Victor has great instincts. But Lucas is strong-willed and holds a grudge on Victor and others like him for killing his family so . . . revenge of madness could possibly help Lucas in this case. My money would be on Lucas since his hotness and youth could beat out old Victor, even though he's still young at heart.
So who do you think would win? Lucas or Victor?
BATTLE #3
SHULA vs GRACE
The situation: Both of these girls get into a heated argument after a long battle, and Shula has had just about enough with Grace's excuses of not protecting her (by using her psych powers). Circling Grace in order to downsize her as the hunter meets prey, Shula lunges forward in hopes of touching Grace with her bare hands and using her power of her literal acid-coated hot body (it can wound people obviously). However, before even Shula can land a single finger on her, Grace in a fluid motion moves out of her way and continues predicting every single move Shula makes. But the question is, what with Grace's graceful and avoiding moves, is it enough to help her win this battle? Or will Shula's rage and vicious nature be just her luck?
My opinion on the battle: Shula is a tough opponent to beat but her mood get's in the way of a clear fighting mind. You need a clear mind for a fight - just saying. Anyway, my money is definitely on Grace's character. She's a psychic after all. She can predict every move Shula makes - everyone's for that matter - and despite Grace not liking to fight, you can never beat a psychic. They will always win no matter what you do.
So who do you think would win? Shula or Grace?
BATTLE #4
TRISTAN vs NEENA
The situation: Tristan and Neena are in a training room. As the trainer, Tristan quickly grabs his shadow blade off from the table and blends into the nearby shadows. Neena, unsure of what to do, prepares herself for his next move by checking her surroundings. As her eyes circle the room, Tristan reappears and makes an upward strike with his blade in hopes of a surprise attack. Neena, however, clenches her hand into a fist, and tries to punch him in the stomach (to her advantage). But Tristan is experienced and avoids her punch by reaching out and twisting her arm around her back, with his blade now in line with her throat. But his arm is weak from an old battle injury. Neena has two choices, she can either use what strength she has left by weakening her opponent's injured arm or use her special ability by changing her form. Human or animal form. But the question is: Does Neena have a chance of winning or will Tristan beat her without too much effort involved?
My opinion on the battle: Tristan may have experience on his side (after all he's badass and clearly his battle techniques and stats are much more favourable than Neena's) however considering Neena is small and can transform into animals and/or people, she could easily win too. She can use her small-size body to duck under Tristan's arm swings (even do further harm to his injured battle arm which earns her a point) or she could even transform into her preferred sparrow form and fly the hell outta there if something worse happened to her. My money is definitely on Neena. The small people can and will surprise you. No matter the age differences and no matter the size/weight of a person.
So who do you think would win? Tristan or Neena?
While we leave our winners and losers to rest (you know who you are), I would like to thank all of the participants of these epic battles. Even the two other opponents, Risper the human hunter and Joshua the Thirster, whom were left out for today's battle and I'm sure they're not too happy with me right now because they were so eager to fight today. But hey, it's the best of the best. Anyway readers, be sure to comment below about who you think would win in each of the four battles. Would love to hear your thoughts on this!
Here's the rest of the blog tour ~

27th January: Tales of the Inner Book Fanatic - Fated Top Trumps & Fated Cast Battle Off
28th January:
She Known as Jess
- Grazia-esque magazine interview with the Fated cast